We are excited to see Ververica Platform, developed by the original creators of Apache FlinkⓇ, debut on the Forrester Wave™ 2021: Streaming Analytics report as a Strong Performer! Back in 2019, when the first Streaming Analytics Wave report was published by Forrester, Ververica Platform was early in its development phase. Two years later, we could not be more proud of our team's achievement of being recognized as one of the top stream processing system vendors in the space and Ververica Platform as a "Strong Performer" in the industry.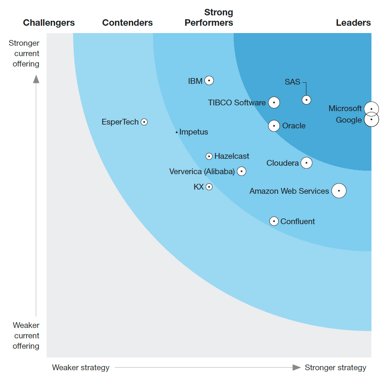 The Forrester Wave™ Streaming Analytics: Q2 2021 Report


Becoming a 'Strong Performer in the Forrester Wave™ 2021: Streaming Analytics report provides a great testament to the recent development choices for Ververica Platform announced in our releases, including but not limited to:
The introduction of Ververica Platform Autopilot with Ververica Platform 2.2 that tackles the challenge of autoscaling stream processing applications with Apache Flink.

Making Ververica Platform an End-To-End Platform for Apache Flink SQL with Ververica Platform 2.3. With the rise of Flink SQL over the past few years, it is only natural for Ververica Platform to bring this functionality to the product and provide an integrated end-to-end solution for the deployment and operations of Flink SQL: from developing SQL scripts and managing user-defined functions (UDFs) all the way to autoscaling of the resulting long-running queries.

Having a detailed look at the report, we are amazed and excited to notice how open source streaming analytics technologies, and Apache Flink in particular, are gaining traction in the stream processing space. Read on for some of our key observations and streaming analytics comparison highlights.


Streaming Analytics Comparison Highlights:
Open source streaming analytics have closed the gap - several open source solutions, including Apache Flink-powered Ververica Platform, offer companies strong capabilities for a fraction of the cost of legacy streaming analytics providers.

Apache Flink is widely represented - Apache Flink is one of the most innovative open source stream processing systems available; it powers real-time systems for Netflix, Uber, Alibaba, Amazon, and many others. Ververica's, Amazon's, Cloudera's, and other streaming analytics solutions are all on the report and are powered by or incorporate Apache Flink in their tech stack.

Streaming analytics system trends - during the two years since the Forrester Wave:™ 2019 include:

Richer analytics
Greater development tool options
Near-effortless scalability

At Ververica, we focus on addressing these challenges and improving our solution in this direction (and more). We invite you to download the Forrester Wave™ 2021 report for free. For more streaming analytics updates and the latest technological trends in the space, we hope you'll join Ververica and the rest of the Apache Flink community this October at Flink Forward Global 2021.