Use Case Track
Realtime Store Visit Predictions at Scale
This talk aims to inspire attendees with a multidisciplinary Flink application, where different fields have come together with a graceful synergy. You will hear about geospatial clustering algorithms, a gradient boosting ML model, and cutting-edge stream-processing technology - all in the same talk! And, if you are wondering, you can incorporate all this into your SOA using Async I/O!
After introducing our product use-case (real-time notifications for nearby local businesses), we'll dive into the big data challenges. The talk will be describing a Visit Detection algorithm we have built to cluster raw GPS pings into Visits, using Flink state management and custom processing constructs (custom Windows, Triggers and Evictors). Finally we will discuss a real-time machine learning model to predict the correct nearby business, leveraging Flink's Async I/O at scale.
Flink enabled us to scale complex algorithms to thousands of operations per second, and to power hundreds of thousands of daily push notifications. It availed itself as a clearly superior alternative, whose performance netted Yelp great cost savings, and allowed us to move away from hardly scalable Python alternatives.
Authors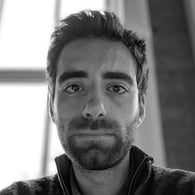 Luca Giovagnoli
Yelp
Luca Giovagnoli
Luca works as a Software Engineer on the User Location Intelligence team at Yelp. While part of his job involves data mining massive data sets at Yelp, he is also responsible for designing and scaling the backend for analyzing high-volume geospatial data from millions of Yelp's mobile users. He was previously the main open source contributor to Yelp's asynchronous client Fido.