London-based Frédérique Mittelstaedt leads the real-time safety applications team at Reddit. His team keeps Redditors safe by automating the detection and actioning of harmful user behaviour and content in real-time.
On October 26, at the upcoming Flink Forward Global 2021 conference, Frédérique and his colleagues, software engineers, Bhavani Balasubramanyam and Vignesh Raja, will explain how they Keep Redditors safe in real-time with Flink Stateful Functions.
We asked Frédérique about his team's talk, Reddit's journey with Apache Flink, and his plans for Flink Forward 2021...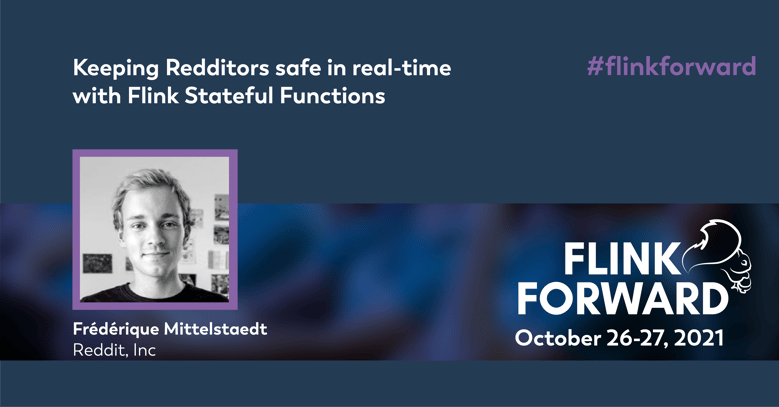 What will people learn from your session at Flink Forward Global 2021?
In this session, we'll be sharing how we designed, implemented, and rolled out our stream processing system based on Flink Stateful Functions. Hence, on the technical side, people will learn about:
Technical considerations around the design of our multi-tenant environment,
How we integrated the system with Reddit's application framework, and
How we built test tooling for it.
We'll also touch on the human aspect of how we actually rolled the system out, educated internal teams on how to develop applications for it, and the lessons we learned along the way. We're hoping that the session will be interesting and relevant to a wide audience.
How long have you been using Apache Flink?
Our team started using Apache Flink when we started building this platform. We evaluated different stream processing technologies and went with Apache Flink and Stateful Functions because of the flexibility, ease of deployment, and useful mental model it provides.
What's your real-time stack? What software do you run with Apache Flink at Reddit?
We use Apache Flink together with Kafka and a range of stateful functions written in Python, all running on Kubernetes in AWS.
What do you look forward to most at Flink Forward Global 2021?
This is my first time attending Flink Forward, and I think it's going to be insightful to learn about the different ways Apache Flink is used to tackle a wide range of problems in different industries. The benefits and drawbacks of different approaches and lessons learned will be relevant not just to engineers new to Apache Flink but to more experienced implementors as well.
What other Flink Forward Global 2021 sessions interest you?
I'm particularly looking forward to the sessions around performance tuning and operations since they will probably contain many useful lessons learned.
I'm also interested in talks about Unified Batch/Streaming platforms since the concept sounds very promising and I'd like to learn more about how this has been implemented in practice.
We hope you will join Frédérique and the rest of the Apache Flink community at Flink Forward online on October 26-27.