After the successful introduction of Ververica's Stream Alliance Program, Ververica today announces an update to the program scheme and the addition of a new partner category, the Ververica Business Partner.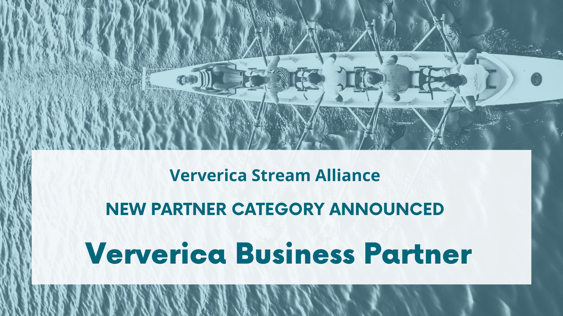 The announcement of the new partner category arrives on the heels of the recent Ververica 2.2 launch, introducing Ververica Platform Autopilot, a significant milestone with a new component for autoscaling and auto-configuration of Apache Flink applications.


Ververica's Stream Alliance Program so far consisted of the categories: Ververica Consultant Partner, Ververica Technology Partner and Ververica Cloud Partner. The initiative now welcomes the new fourth category, Ververica Business Partner, aimed at partners intending to capitalize on the growing momentum of stream processing in the market, by reselling Ververica Platform to customers in multiple geographical locations.


The new Ververica Business Partner category will enable partners to enhance their customers' business with real-time data stream processing and differentiate their own portfolio by reselling the Ververica Platform and benefit from first-hand vendor access, enablement and advocacy.


Partners uncovering opportunities will be supported by Ververica to position and deploy profitable real time streaming solutions and develop the expertise necessary to evolve their business.


"With the latest addition to our Ververica Stream Alliance Program, we expand the options of event stream processing adoption and offer big data specialist partners around the world an unparalleled opportunity to join forces with the experts from the original creators of Apache Flink and leverage the experience of successful streaming applications," says Holger Temme, Head of Growth at Ververica.
"As the adoption of Apache Flink takes off for numerous stream processing use cases, our customers are constantly looking for best-in-class integrated streaming platforms to support their needs. The Ververica Platform is instrumental to growing the adoption of Apache Flink by making deployment, operations and management of Flink applications as-easy-as a few clicks with configuration options. We look forward to partnering more closely with the original creators of Apache Flink to develop innovative new capabilities and support new stream processing use cases across different industry verticals."
Sabri Skhiri
Research Director & CTO at EURA NOVA

The new category is ideal for partners serving small to large enterprise customers with a focus on financial services, manufacturing, eCommerce, technology and other industries. Ververica's new Business Partners will enable such organizations to grow new business and drive incremental revenue.

"We are excited to join the Ververica Stream Alliance Program as Business Partner, and look forward to working with the Ververica Platform team, enabling Apache Flink streaming applications for everyone!. As a Ververica Business Partner, StreamBurst will provide enterprise customers with best-in-class technology for Flink applications, unique support and expertise backed by Flink's original creators. We are delighted to bring this potential to our customers and existing users."
Dirko Hay, CEO and Co-founder - Streamburst

The update of the Ververica Stream Alliance Program and the new Business Partner category indicates Ververica's continued investment and commitment into growing a global Stream Alliance partner ecosystem.


Explore the updated program and join our exciting journey to elevate your portfolio towards innovative data processing applications and mission-critical developments for enterprises of all industries and sizes!


Find out more about our Ververica Stream Alliance Porogram or contact us for further information.