We are thrilled to announce that Ververica Cloud has entered its public beta phase, starting today! This release enables you to effortlessly embark on real-time data processing and take advantage of its powerful capabilities.

What is Ververica Cloud?
Ververica Cloud is a high-performance cloud-native service for real-time data processing. It democratizes stream processing, making it accessible for all data engineers and developers in companies big and small. It is a ready-to-use cloud platform with no complex infrastructure set-up, just log in and build your streaming application. With Ververica Cloud, you can easily deploy and manage your data streaming applications on the cloud, and take advantage of the scalability, flexibility, and cost savings that cloud deployment offers.
We are on the mission to make the power of real-time data processing available to everyone, and we are using the best-in-class technology: Ververica Cloud is based on Apache Flink, an open-source engine that has become an industry standard for stream processing, used by tech giants such as Uber, Ebay, Alibaba, and more.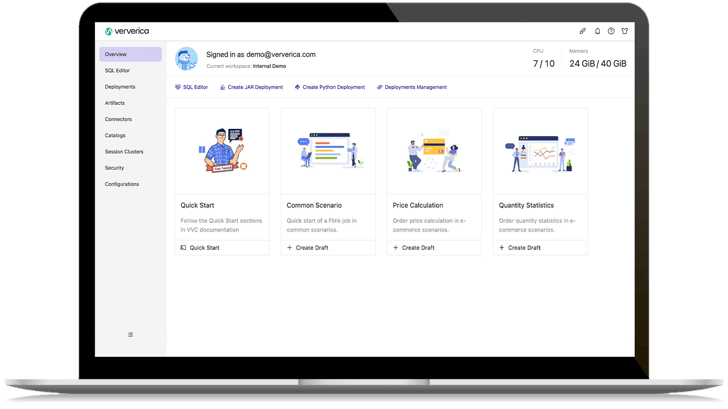 What can you use it for?
Real-time data processing powers today's world. It is the backbone of numerous apps and IT systems we use every day.
Whenever you swipe a credit card in a grocery store, it's likely stream processing.
Whenever you order a taxi through an app, it's likely stream processing.
Whenever you order a delivery, it's likely stream processing.
Previously you had to hire an army of infrastructure engineers to build and sustain such systems. Now, all you have to do is to actually develop your application and simply deploy it to Ververica Cloud. We'll do the heavy lifting for you.
Why is Ververica Cloud unique?
Ultra-high performance. Our cloud-native service provides unmatched speed, delivering exceptional performance that is several times faster than open-source Flink in specific metrics. It can process hundreds of millions of data entries per second with data processing delay reduced to the millisecond level.
Cost-efficiency. Ververica Cloud can be more cost-efficient than managing your own Flink cluster. With our cloud-native service, you only pay for the resources you use, and you don't have to worry about maintaining or upgrading your own hardware.
Easy deployment. Deploying and managing a Flink cluster can be complex and time-consuming. With Ververica Cloud, you can easily deploy and manage your stream processing applications using a simple interface, without worrying about the underlying infrastructure.
Easy development. Our fully managed cloud development environment combines development, debugging, and management of stream processing jobs. It supports standard SQL and includes a diverse set of coding assistance tools, which allow you to quickly get started.
Connectivity. We provide a wide range of built-in data connectors to integrate your applications with other cloud services. We already have a plethora of connectors that can be used as sinks and sources, and we plan to add more.
Fault tolerance. Thanks to Apache Flink's inherent redundancy and automatic failover capabilities, Ververica Cloud provides operational continuity of your app at all times.
Elasticity. As your applications' workload varies over time, Ververica Cloud can automatically scale resource utilization up or down, aiming to provide the best performance at an optimized cost.
Get started with Ververica Cloud
Sign up to Ververica Cloud now to begin building your stream processing applications in the cloud. Seize the opportunity to be among the early adopters, and share your valuable feedback to help us tailor the perfect features for your needs!
During the public beta phase, Ververica Cloud is completely free to use, so don't hesitate to create an account and give it a try! While it is currently suited for development and testing, we will soon introduce new features and updates to ensure it's ready for production use.
Stay informed, keep an eye for our blog, or follow us on Twitter or LinkedIn! If you have any questions, please feel free to reach out to us here or via help@ververica.cloud.