Timo is one of the driving forces behind the SQL efforts in Apache Flink and has been working on Flink since its creation at TU Berlin (even before it became Flink) where he was instrumental in developing many of the different components of the project. Although you can always find him on the project's mailing lists replying to questions about "all things Flink", you'll read here that Timo has a lot more interests than just programming. One of the things I appreciate most about Timo is that he cares a lot about the quality of what we're developing including the important details, but also that he's able to see the big picture of the customer's challenges, both on the technical and business sides. Hope you enjoy learning about my colleague and officemate, Timo Walther.
What do you work on at data Artisans? I'm working mostly on Apache Flink's Table & SQL abstractions and the corresponding ecosystem. My work aims to make Flink as easy to use as possible. With better abstractions for connecting to external systems, unification of batch and streaming queries, and awesome utilities such as the upcoming SQL client, we want to make a programmer's (and non-programmer's) life easier.
What do you enjoy about your job?I really enjoy that every line of code that I write is available publicly and free of charge. It is great to know that my work runs on thousands of servers around the world, especially inside data centers of some of the biggest companies in the world. Even though I don't know for sure if Flink will still be popular in 20 years, contributions to the Apache Software Foundation become a part of history.
Are you a contributor or committer to any Apache projects? If so, which ones? I am a committer and PMC member of Apache Flink. I joined the team back in the day when Flink was still part of the Stratosphere project (note: Stratosphere was a research project at a university in Berlin). Batch processing with Hadoop was state-of-art at the time, and nobody really knew where the journey would lead to.
What do you like about Apache Flink?I like that Flink was and still is designed and developed by really smart people who don't focus on niche and short-term solutions and instead work on a vision for changing the way how data should be processed. For anyone who's interested, learn more about event-driven architectures ;-)
What is your advice for someone who is interested in participating in any open source project for the first time?Don't just pick an open Jira issue and implement it the way you think it should be implemented. Try to work together with the community by asking questions and providing a short description of your ideas first. All existing committers look forward to guiding you through your first contribution.
How did you get into programming?I have always been fascinated by technology. As a child, I always wanted to know how things worked and where, for example, cables lead to. Sometimes my parents had a hard time finding me as I was often lost exploring things around me. At some point, I became interested in computers, and at one point, I wanted to program my own online social network, and so I taught myself programming. Unfortunately, Facebook was quicker than me :'(
What's your favorite place and why? I really love Italy and the Italian culture. That's why I usually go there once a year. I don't have to tell you that the food and gelato is world famous. However, I mostly enjoy the relaxed and down-to-earth lifestyle there, especially in the tiny, old villages.
Where are you from? Tell us something about where you grew up or some memories from childhood.I would consider myself a country boy. I come from a tiny village in the deep south of Germany. Harvesting apples, pears, or hay for our horses was a part of my childhood. That meant always being outside, climbing on trees, and building things from stuff that I found in the barn or around the yard as well.What's something that most people don't know about you?I love to create things (not only programmatically). I always have a stack of crafting projects on my desktop or at least in my head, even though I sometimes never finish them. Right now, I'm thinking about planning a tiny house. We'll see if this will ever happen.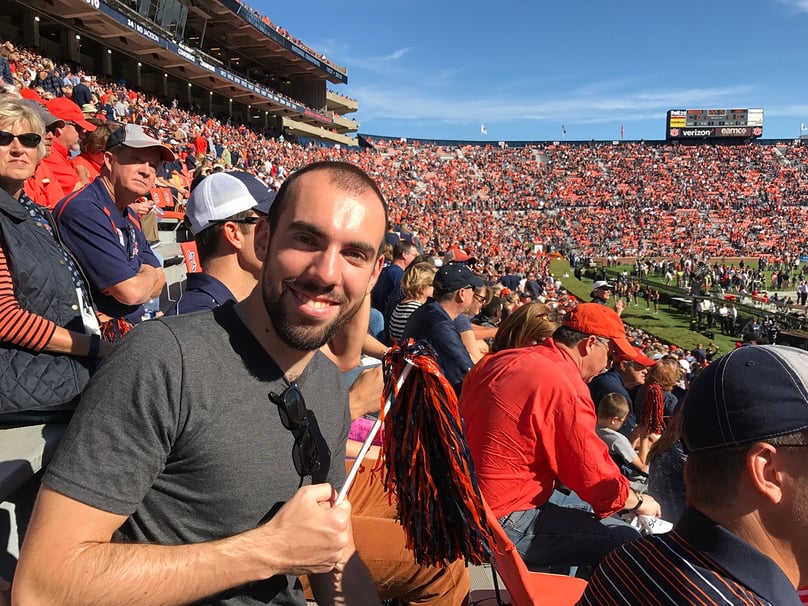 You can follow Timo on Twitter @twalthr, Github, and LinkedIn.
Here are some of Timo's talks:
Table & SQL API– unified APIs for batch & stream processingWhy and how to leverage the simplicity and power of SQL on Flink
We're hiring! Check out the data Artisans careers page to learn about open positions. We have roles based in our Berlin office as well as in the U.S.